Employee-Centric Commitment
The wellbeing of our employees matters to us as much as that of the members we serve. In addition to competitive pay, we offer outstanding benefits with choices that fit your personal needs.
Health, Wellness and Development
Medical
Dental & Vision
Income Protection
Retirement Savings
Vacation & Holidays
Pet Insurance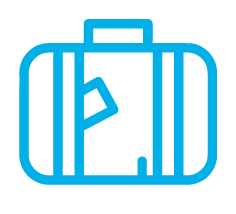 Travel Assistance Program
Employee Discounts
Professional Development
Work-life Balance
Continuous Learning
Employee Wellbeing
Medical
Depending on location, you have access to up to three medical plans, - including PPO, HDHP, HMO options.
Dental & Vision
Dental and vision coverage are provided so you have the flexibility to choose where you get your care.
Income Protection
To provide some financial security in the event of an unexpected loss of income, we provide basic life and accidental death and dismemberment (AD&D) short-term and long-term disability insurance.
Retirement Savings
Participating in our 401(k) retirement savings plan is a great way to start planning for the future.
Vacation & Holidays
We value work-life balance and want to provide you with the deserved time away to rest and relax. That's why we offer regular employees 11 paid holidays and paid time off based on your years of service.
Pet Insurance
You have the option to cover your four-legged family members if they become sick or injured. You may choose between two plans with covered services, including accidents, surgeries, wellness exams, and more.
Travel Assistance Program
Travel with peace of mind through our travel assistance program. Whether you are traveling for business or pleasure, you have access to support 24-hours a day, 7-days a week when you are traveling 100 miles or more from home.
Employee Discounts
Save on a wide range of discounts and perks, including travel, electronics, restaurants, and entertainment through our free Discount Marketplace.
Professional Development
Our investment in you doesn't end after you join the team; it's just the start. We strive to continually provide opportunities for you to grow yourself and your career.
Work-life Balance
A high percentage of our employees work remotely from their home offices. This gives our employees more time at home, reduces the carbon footprint, and provides more balance in the lives of our employees.
Continuous Learning
Ontrak Health offers a variety of opportunities to continue to develop the skills of our employees. Training and development include role specific, compliance, leadership, technical skills and so much more.
Employee Wellbeing
We offer access to LifeDojo's wellbeing platform and one-on-one confidential coaching to help individuals focus on behavior change that matters to them.
Join Ontrak Health's Talent Community
Our Talent Community is a great way to stay connected to our career opportunities, events and interests. Joining our Talent Community helps recruiters find you if there's an opportunity that aligns with your skills, experience and interests. You can opt out at any time.
Join